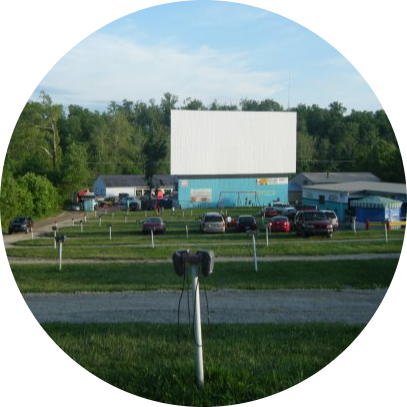 ADMISSION PRICES

DIRECTIONS

DIGITAL VIDEO AND SOUND

WHEN SHOULD I ARRIVE? or
WHEN DO TICKETS GO ON SALE? or
WHAT TIME DOES THE FRONT-GATE OPEN?

WHAT ABOUT BAD WEATHER or STORMS?

WHAT ARE YOU PLAYING NEXT-WEEK OR ON A CERTAIN DATE?

RE-ADMISSION POLICY

CONCESSION STAND
MANUAL AND STICK-SHIFT VEHICLE REQUIREMENTS
---
ADMISSION PRICES (2023 season)

CASH-ONLY is accepted at the front-gate and pizza tent. There are no advance or online ticket sales. Cash, credit, debit-cards accepted at the concession stand. The admission price is per person and covers all movies that night.

Special events might change admission price and is announced with that weeks schedule of movies.
ADULTS 13 and older
$12.00

CHILDREN 6-12 and under
$6.00

CHILDREN 5 and UNDER
FREE


The Georgetown Drive-In Theatre is located at
8200 State Road 64, Georgetown, IN
From Louisville:
Take I-64W to the Georgetown Exit #118. Turn right.
We're just three miles on the right in Georgetown, Indiana - you can't miss us.
DIGITAL VIDEO AND SOUND
Front screen 95.1 FM
Rear screen 91.1 FM
WHEN SHOULD I ARRIVE?
WHEN DO TICKETS GO ON SALE?
WHAT TIME DOES THE FRONT-GATE OPEN?

There are no advance ticket sales.
Front gate (box office) usually open 45-minutes before the first show starts.
However on Friday and Saturday nights, the box office can open as early as 7:30pm (two-hours before the first show starts). If a new-release movie or special event is planned then the box office has opened even earlier.
So our best advice is to arrive as early as possible especially on Friday and Saturday nights and enjoy the company of friends and family, the playground with the kids and the concession stand before the movies start and have an enjoyable evening under the stars at The Georgetown Drive-In Theatre.
The front-gate opens and cars are allowed into the drive-in when waiting cars back-up to SR64 so when the gate opens depends on how many cars arrive early so it's impossible to give an accurate time on when to arrive other than arrive as early as possible.

WHAT ABOUT BAD WEATHER or STORMS?
The show must go on the old-saying goes so if the weather might keep you from enjoying the movies - plan on coming another day when the weather is more-likely to be agreeable. No rain checks are given.

WHAT ARE YOU PLAYING NEXT-WEEK OR ON A CERTAIN DATE?
The movies are posted on our website, emailed to our email subscribers and posted on Facebook as soon as the decision is made on what's playing.
Although there are are certain upcoming movies we know in advance we will be showing - those movies are listed on the UPCOMING link on our web site. However, the decision on what to show week-to-week usually isn't made until early-in-the-week and posted on Tuesday or Wednesday starting the following Friday.
Special schedules and events of-course will alter this schedule.
So unfortunately, it's not possible to answer questions about what will be playing next-weekend or on a certain date in the future since any answer given today is subject to change closer to the date.


RE-ADMISSION POLICY
Please don't arrive early, park and leave your car unattended - re-admission is not allowed. Please be considerate of your neighbors and not run your car engine during the movie because this can be distracting to others.
CONCESSION STAND
MONDAY-THURSDAY (when open)
No hamburgers or fried foods (onion rings, cheese sticks, poppers ect.)
Hot Dogs, Chili dogs, pretzels, nachos, popcorn, drinks, ice cream, candy type products only

WEEKENDS
Full snack-bar on weekends.
NOW ACCEPTING credit/debit cards at the concession stand
CASH-ONLY AT FRONT-GATE AND PIZZA TENT


OUTSIDE SNACKS
Outside snacks are not encouraged but if you have favorite items you would like to bring from home to make your visit more enjoyable then please do so.
The Georgetown Drive-In relies almost entirely on the sale of concession items to stay open as most of the admission price goes back to the movie theatres. So even if you do bring your own snacks - consider purchasing an item or two to show your support of the drive-in. The concession items are reasonably priced as well - and delicious!

ARE GRILLS ALLOWED?
No, but the concession stand is open for your enjoyment.


ARE PETS ALLOWED?
Pets are not allowed. However, there are events through-out the season where the drive-in "goes to the dogs" where you're welcome to bring your dog to the drive-in. Information about this event is announced before the event each year. But except for special events at the drive-in, please leave your four-legged friends at home.

MANUAL AND STICK-SHIFT VEHICLES
Manual and stick-shift vehicles are required to have wheel chucks while at The Georgetown Drive-In. Please see a drive-in attendant if assistance is required.
Part of the charm of The Georgetown Drive-In is when you visit it's like taking a step back in-time - seriously. To that end, it's not surprising that the owners of the drive-in do not email, text, and have an announcement-only message on their phone line - it's been that way for decades.

However, If you need to reach someone at the drive-in for any reason, you can usually speak to the owner any night the drive-in is open.
Or you can write them the old-fashioned way at:
The Georgetown Drive-IN
8200 State RD 64
Georgetown, IN 47122
Thank you for your understanding.
If you think you've lost an item at the drive-in, visit the drive-in the next time the drive-in is open and they'll be able to check for you at the front gate if your missing item has been found and turned in. Unfortunately there is not a telephone number or email address you can use to contact the drive-in (see above).
spam filter